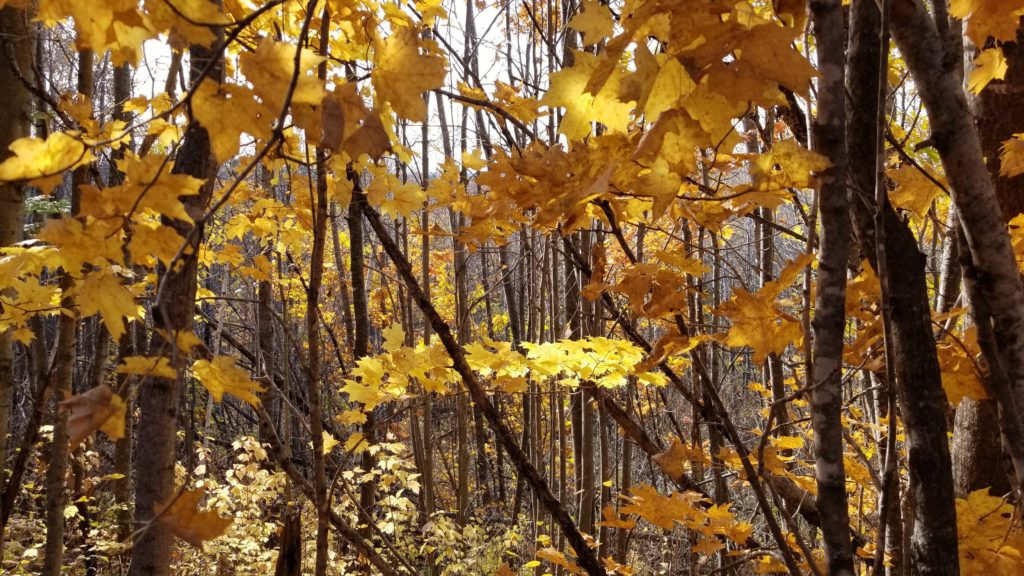 You don't have to wonder what the month of November means here at Apple Awards. It's all about thankfulness. It would be easy to save it all for the third Thursday of the month. However, the fact is that being thankful takes practice.  Doing it well doesn't suddenly come to pass on one day of the month. Because we have many things to be thankful for, we are going to give those things the spotlight this month.
I am thankful for the beauty of November in the north woods of Wisconsin. This fall, the above picture was taken on a trail close to Hayward and Apple Awards. Dennis and Mary Pat Smith, Apple Awards owners, are often out hiking and biking on this trail. I am also thankful for the many opportunities to get out and enjoy the last "fling" of nature before the winter snows come. Over the years I've taken many pictures of autumn in Wisconsin. They are always as gorgeous as the golden woods you see above. 
In your personal life, family life, business life, national or even global life, you can help us practice thankfulness. It's healthy and freeing. If you are a customer, or a website visitor we are thankful for you, for your time, your "likes" and your feedback.  Have you ever commented on this blog page? Scroll to the bottom of this post and click on the word "comments".  You'll see a box where you can give us a shout out – it's easy. Try it now and share something you are thankful for.  Start practicing!