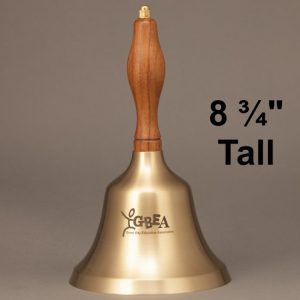 Even in our digital age, symbols are great communicators.  A classic symbol of the world of education is the brass hand bell.  In the past a brass hand bell sat on the teacher's desk and was used to signal the beginning and ending of the day's lessons. Today, this symbol stands for appreciation and honor, especially when engraved and personalized.
Every educational institution has those teachers who are exceptional because of their knowledge, persistence, and skill in reaching those they teach.  Are you searching for a way to acknowledge that special teacher or professor? Remember the one who completely changed your ideas about poetry or made that algebra concept crystal clear?  Remember the one who stayed in their position for decades in spite of the challenges of teaching?
A lasting, high quality symbol of appreciation is the Brass Hand Bell for teachers. At Apple Awards, there is an extensive assortment of hand bells in sizes from very small to extra-large. Substantial in weight and beautiful in appearance, they actually do ring. Beautiful hardwood handles add to the aesthetic and are available in a school color if desired. They can be personalized by engraving, making them unique and memorable. For wall display, choose a plaque featuring the brass hand bell.

See all of these hand bells, and plaque choices as well as brass, crystal and marble apples at AppleAwards.com, a full service internet catalogue. Work within the website to arrange your message of appreciation and see the virtual product as it will appear. Apple Awards is able to handle all sizes of orders in a timely manner and has experts available to help you with any questions from design to shipping of your product. Our priorities are customer satisfaction and quality of product.